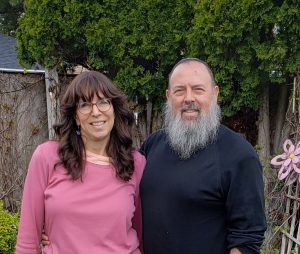 Dovid and Miriam Feldman are the soft-spoken but very dynamic duo of marriage and relationship counseling. Great marriages, they teach, aren't born – they're made and perpetually re-made, in heaven and on earth.
Dovid's book on Amazon: 52 Tweets to a Great Marriage – https://a.co/d/gO7u4f1
Miriam's Book on Amazon: God Said What?! #MyOrthodoxLife –https://a.co/d/a4dmG5u
Miriam's Website/blog: www.miriamracquel.com
Miriam's Bio: Miriam Racquel Feldman is a somatic healer, marriage coach, anxiety & trauma specialist and award-winning author. She helps empower women to trust the wisdom of their bodies and intuition and step into their radiant selves through individualized sessions. She can be found at MiriamRacquel.com. Miriam also offers marriage programs together with her husband

Dovid

Feldman, L.P.C. Her memoir, God Said What?! #MyOrthodoxLife, was the winner of the GOLD award from the Nonfiction Book Awards, #1 New Release in Kabbalah & Mysticism and became #1 Best Seller in Women & Judaism.
Dovid's Bio:

Dovid

Feldman is a Licensed Counselor, specializing in Family & Marriage Therapy.

Dovid

reunites husbands and wives, and helps couples restore intimacy, trust, and connection. He can be found on sharing thoughts Twitter: @

dovid

feldman, and deep marriage fundamentals on his blog,

dovid

feldman.com/blog  His #1 New Release, 52 Tweets to a Great Marriage is sure to bring closeness and love back into your relationship.

Dovid

works with his wife, Miriam Racquel, offering a Recreating Intimacy program for couples needing assistance.
Podcast: Play in new window | Download